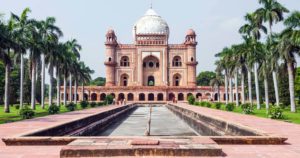 IPA 4th Asia Pacific Conference
Containing Diversity; Bridging Difference
4th – 6th January 2023
New Delhi, India
The call for proposals for the IPA 2023 conference is NOW OPEN!
The pandemic has radically affected possibilities for meeting in person: we could not hold the planned congress in Sydney 2020; nor could we meet in person in Vancouver 2021. With heartfelt hope, we are planning to hold the IPA Asia-Pacific Conference in New Delhi (India) in January 2023 in person. At the current time, many borders are closed and there are travel restrictions in the Asia – Pacific Region, but we encourage you to submit your proposals as if travel will be possible. The possibility of holding an in-person meeting will be re-assessed in 2022; if it is not possible, the Conference will be held online but there is still time and we are very hopeful to meet in Delhi in person .
We hope that the conference will offer an opportunity to bridge the chasm between what was and what is and to find diverse and creative ways to digest our changed and evolving world.
The conference is designed to explore notions of diversity and difference, and their counterparts – uniformity and sameness – through their resonances with psychoanalytic practice and theory in the clinic and in the community.
The Programme Committee is pleased to invite proposals from members, candidates and non-members of the IPA on the conference theme.
All proposals must be made in English using the IPA's online system.
The full call for proposals, including guidance notes, can be found here.
To make sure that your application is received and reviewed, please submit as EARLY as possible and no later than Monday 28 February 2022.
Proposals will be reviewed by two independent peer reviewers according to the following criteria: psychoanalytical quality of argument, relevance to the conference theme and the amount of interest our audience will have in the argument.
The Programme Committee will make the final decision of acceptance or non-acceptance by Monday 5th July 2022 based on the organisation of the programme and the number of available time slots. Any questions you may have please contact our conference team events@ipa.world
IPA Asia-Pacific Conference Programme Committee, 2023
Louise Gyler, Chair
Minnie Dastur, Mumbai
Jianyin Qiu, Shangai
In-Soo Lee, Seoul
Hsueh-Mei Fan, Taipei
Naoki Fujiyama, Tokyo
Tomas Plänkers, IPA APPC Member
Gagandeep Kaur Makkar, IPSO representative
Adriana Prengler, Ex-Officio, IPA VicePresident
Karina Gutierrez, IPA Events Manager
---
Keynote Speakers:
Tao LIN (China)
Madhu SARIN (India)
Naoki FUJIYAMA (Japan)
Jaehak YU (S. Korea)
Tzung-Wei SHIU (Taiwan)
Timothy KEOGH (Australia)